We believe that God has a heart for the city and we should too. Local Outreach is discovering everyday opportunities to impact your friends, neighborhood and workplace in Artesia, Cerritos and the wider areas of Long Beach and Los Angeles with the transforming reality of Jesus.
A key initiative at New Life is our weekly food distribution. Every Saturday volunteers serve between 100-250 families. We partner with the Food Bank and collect donations from church members, city organizations, other churches and beyond. Together we are working to feed the hungry.

We are always looking for food donations. This month we are in need of: peanut butter, cereal, mac-n-cheese and reusable plastic grocery bags.
Donations can be dropped off at the sheds on Friday mornings from 8-10am.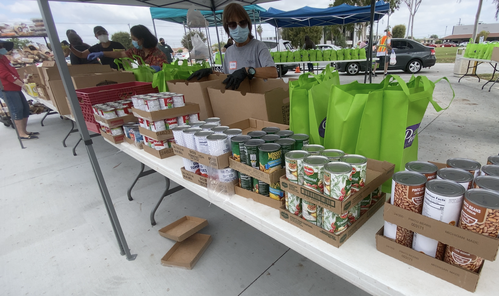 CHANGE FOR CHRIST OFFERINGS
Every 5th Sunday of the year, you have the opportunity to pray and give as we collect a special offering (spare change, cash and checks) for our local outreach initiatives. We encourage people to collect their change (coins) throughout the year and bring them in during our quarterly offerings for the purpose of seeing change (impact_ in the local community. Here are some of the organizations we partner with:

Mercy House
Kingdom Causes Bellflower
During the holiday months of November & December we have many community outreach programs. These programs include Thanksgiving Food Drive: a food drive for the Thanksgiving holiday to give more than 150 families a complete Thanksgiving Meal. Angel Tree: a collection of gifts that go to families with incarcerated parents. Christmas Festival: a fun international food tasting with live music and crafts to raise funds for the missionaries and local organizations we support.